Moving with­out phy­sical re­strains – That's free­dom and qua­lity of life
News from the spine practice of Dr. Beat Wälchli
I am pleased to announce that Anthony Ghaffari MD, board-certified neurosurgeon (FMH) with advanced training in spine surgery, will be joining my practice from the 1st April 2023. Anthony Ghaffari has not only extensive experience in treating the disorders of the entire spinal column, but also brings his expertise in interventional pain management.
Modern Spinal Surgery offers a wide range of thera­pies and techni­ques that help to re­lieve discom­forts.
Beat Wälchli M.D., D.C.
Board-certified orthopedic surgeon
Board-certified chiropractor
As a board-certified orthopedic surgeon I specialize in the treatment of spinal deseases.
My areas of expertise include the conservative and surgical treatment of degenerative changes of the spine (e.g. endoscopic and microsurgical disc surgery, minimal invasive spinal surgeries and complex revision surgeries).
As a board-certified chiroptractor I am familiar with the entire field of manual therapy.
Anthony Ghaffari, M.D., M.B.B.A, IFAANS
Board-certified Neurosurgeon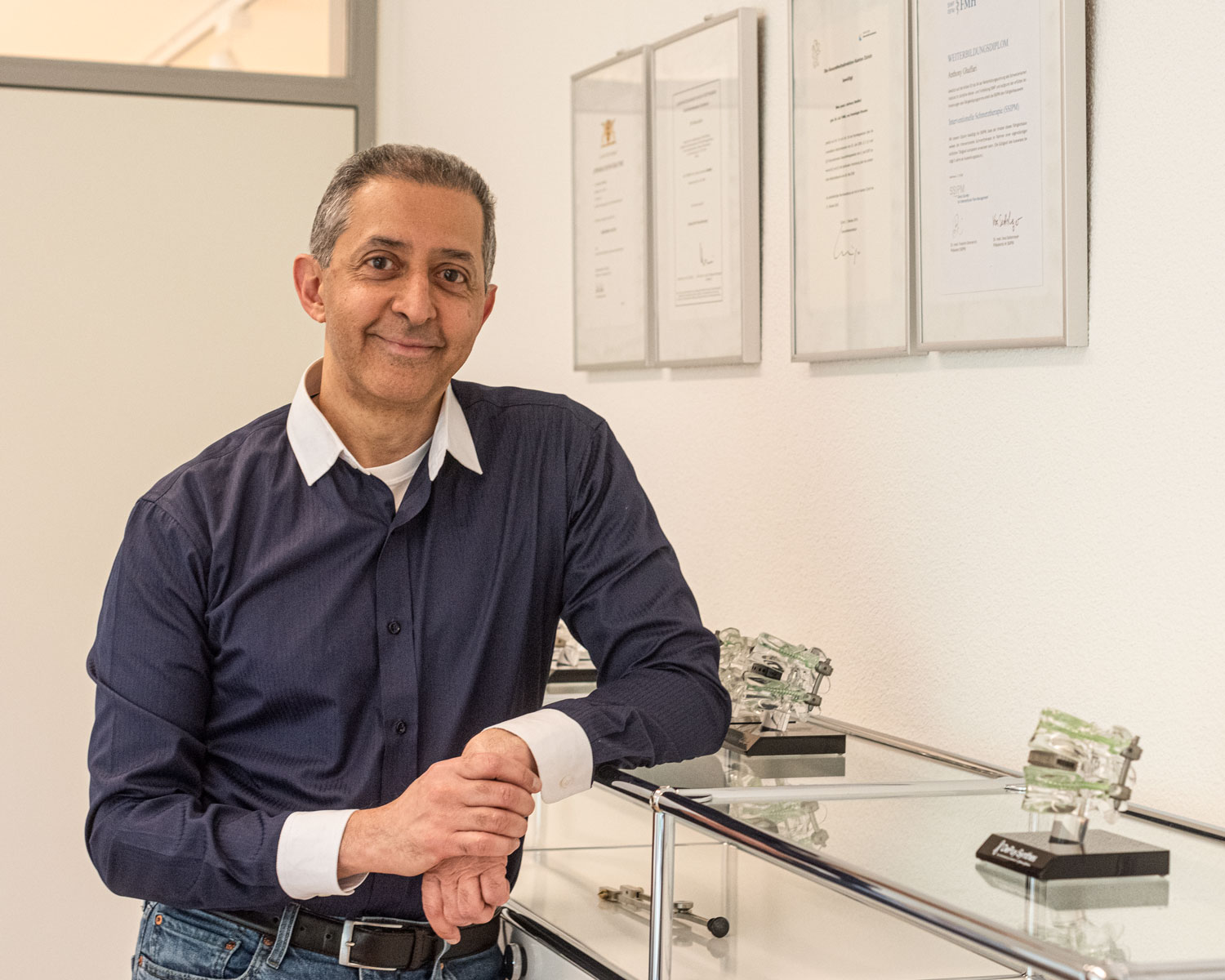 Anthony Ghaffari started his professional career in the United States in cancer research at the Johns Hopkins University in his hometown of Baltimore, Maryland. He subsequently attended the University of Sydney School of Medicine in Australia where he graduated with the degree of MBBS in 2002. Around the same time he took the US medical board exams and received his MD degree. Shortly after obtaining his medical degrees he moved to Switzerland and commenced a post-doctoral fellowship in neuro-oncology research at the University of Basel.
In the ensuing 6 years, from 2003 to 2009, Anthony Ghaffari completed his neurosurgery residency training at the Basel University hospital, and in order to gain more surgical experience moved to Germany to work at the University of Heidelberg's Head Clinic on the neurosurgery service.
In 2012, Anthony Ghaffari returned to Switzerland and took a position as a staff surgeon and junior consultant in the spine surgery branch of the orthopedics department at the Olten County Hospital. Since 2016, he has been working in his capacity as an affiliated surgeon with privilege in various hospitals here in Zurich at the Private Clinic Bethanien, and in Bern at the Hirslanden Clinic Salem, and the Private Clinic Siloah.
We set great value upon personal consultation and care for all of our clients.  This applies for both patients with a private insurance and those with a general insurance.
In our medical practice you can be sure to get a treatment quickly, without long waiting periods.