Medical Team
Beat Wälchli M.D., D.C.
Anthony Ghaffari M.D., M.B.B.S., IFAANS
Beat Wälchli M.D., D.C.
Board-certified orthopedic surgeon
Board-certified spine surgeon
Board-certified chiropractor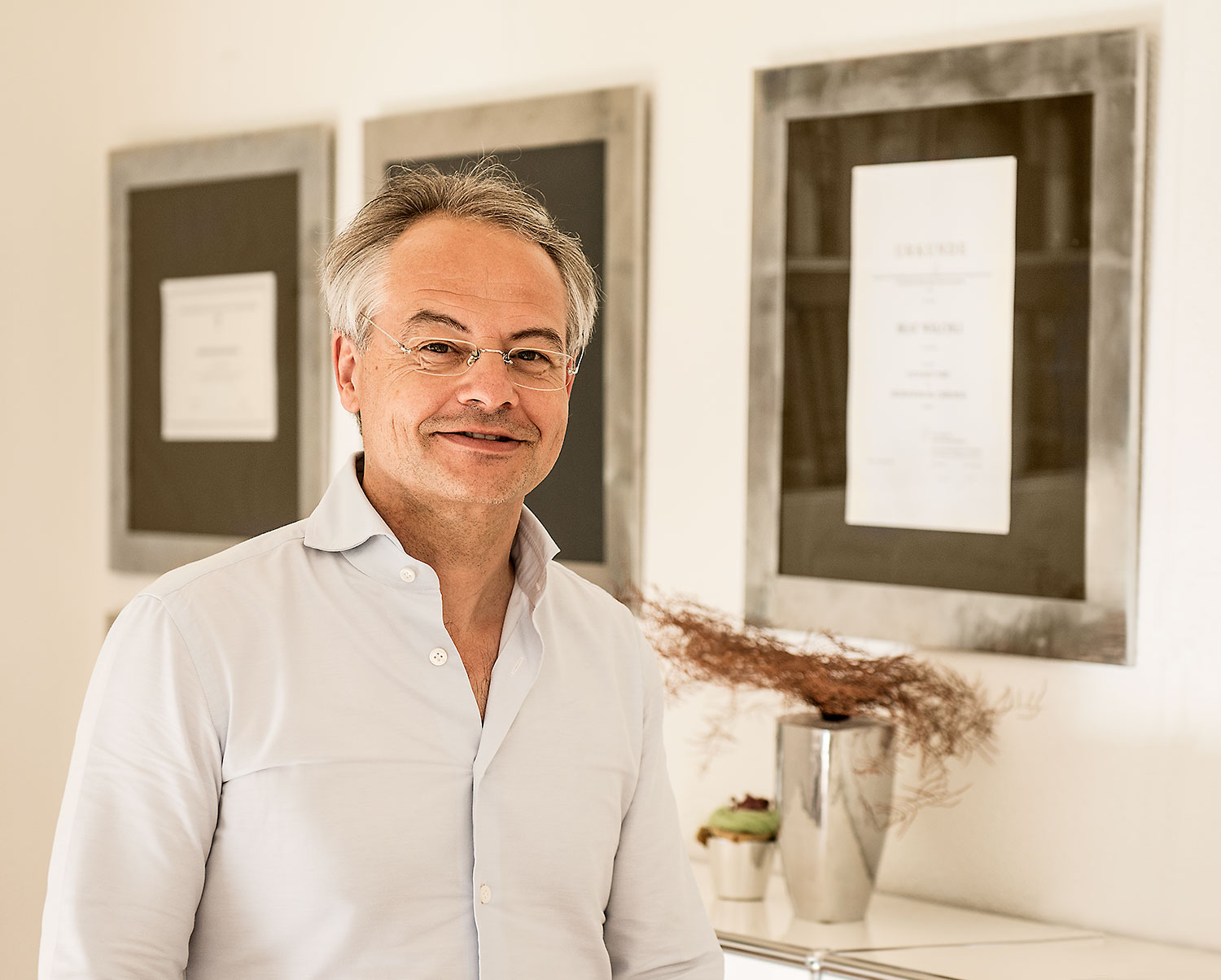 Beat Wälchli, MD, DC, is a board certified orthopaedic surgeon, specialized in the treatment of spinal diseases.
Areas of expertise include the conservative and surgical treatment of degenerative changes of the spine (e.g. endoscopic and microsurgical disc surgery, minimal invasive spinal surgeries and complex revision surgeries).
Beat Wälchli obtained his chiropractic degree at the Canadian Memorial Chiropractic College in Toronto Canada and the Swiss chiropractic board certification in1987.
After graduation from medical school in Zurich, he obtained the title of a board certified orthopaedic surgeon in 2002.
He followed residencies and a fellowship program at the University Clinic Balgrist, Zurich, Inselspital Bern, Schulthess Clinic Zurich and the University hospital Zurich.
Since 2004 he has consulted and treated patients in his own practice as well as for the hospital Zollikerberg.
He has remained active as a chiropractor at the "Zentrum für Chiropraktik, Zurich" throughout his professional career, currently acting as a consulting partner.
Anthony Ghaffari M.D., M.B.B.S., IFAANS
Specialist FMH for Neurosurgery with Certificate of Competence in Interventional Pain Therapy
Board-certified (FMH) in Neurosurgery with Certificate of Competence in Interventional Pain Management
Anthony Ghaffari MD (USA), MBBS (AUS), is a board-certified (FMH) neurosurgeon with a certificate of competence in interventional pain management. He has advanced training in spine surgery and is an international fellow of the American Association of Neurological Surgeons (IFAANS) in the US.
After completing his Bachelor's degree in Biological Sciences and studies in Human Physiology (1986-1992), Dr. Ghaffari worked from 1992 to 1997 in the US in cancer research at the Johns Hopkins University in Baltimore, Maryland. Subsequently, he attended the University of Sydney School of Medicine in Australia. He completed several clinical rotations in the US at multiple renowned medical institutions such as the Harvard Medical System Brigham and Women's Hospital in Boston Massachusetts, the Mayo Clinic in Scottsdale Arizona and the Emory Hospital in Atlanta Georgia, to name a few. Dr. Ghaffari obtained his medical degree (MBBS) from the Sydney University and his medical board certificate (MD) from the United States.
In 2002, Anthony Ghaffari came to Switzerland and took a position as a post-doctoral fellow in neuro-oncology research at the University of Basel. This was followed by neurosurgery residency at the Basel University Hospital from 2003 to 2009. Upon completion of his residency and to hone his surgical skills, Dr. Ghaffari moved to Germany to work at the Head Clinic of the University of Heidelberg. He then returned to Switzerland in 2012 in the position of staff surgeon and junior consultant in the department of orthopedics/spine surgery at the Olten County Hospital. Since 2016, he has been working independently as an attending physician at the Private Clinic Bethanien in Zurich and the Salem and Siloah Hospitals in Bern and has gained extensive experience in minimally invasive surgery.
As of April 1, 2023, Anthony Ghaffari will become an accredited attending at the Zollikerberg Hospital and will bring his experience and competence to the spine surgery practice of Dr. Beat Wälchli.Anthony Ghaffari speaks fluent German, English and Persian.